I am finally getting around to posting some more from our trip to the Smokies
. I have been very busy and not able to keep up with my blogging as I would like to be able to do.
Th
es
e pictures are from the Elijah Oliver Place in Cades Cove. To get to this property, you have to hike a trail 1/2 mile back into the woods. What a beautiful and peaceful place! Wh
en I visit a place like this, far from the maddening crowds, I become nostalgic for the old ways. It is v
e
ry peaceful wher
e we live too, but this was even more so, with the only access by foot.
Here is what the information
brochure has to say about this site:


"Elijah Oliver . . . was born in th
e Cove in 1824. After he married, he and his family moved out of the Cove before th
e Civil War. After
the war, he bought this property and moved back in
. In the time and place of t
his family, more buildings were required for living than now. With no refrigerator or freezer, they needed the springhouse to keep milk and butter cool. They needed the smokeho
use to s
tore and preserve hams, shoulders, and side meat for an entire year. They ate m
ostly pork because it was easier to preserve than other meats. They needed the corn crib to store enough corn for grinding into meal to last until the next harvest. Having no automobile or motorized farm equipment, they needed horses or mules to pull plows
, harro
ws, buggies, sldes and wagons. And they needed a barn to shelter these animals, along with the cows that provided
milk. Hay to feed them was stored in the barn loft. Water for drinking, cooking, bathing and laundry had to be carried from the spring. No
easy task.
Much later th
an the time of Oliver,
just one family in the Cove had wate piped from a sprin
g into the house to
a homemade kitchen sink. Two or three other families piped water from spr
ings
to faucets just outside their houses. . . . Buildings were of log construction until the 1870's because there was no nearby sawmill to saw logs into lumber."
Doug at a side door.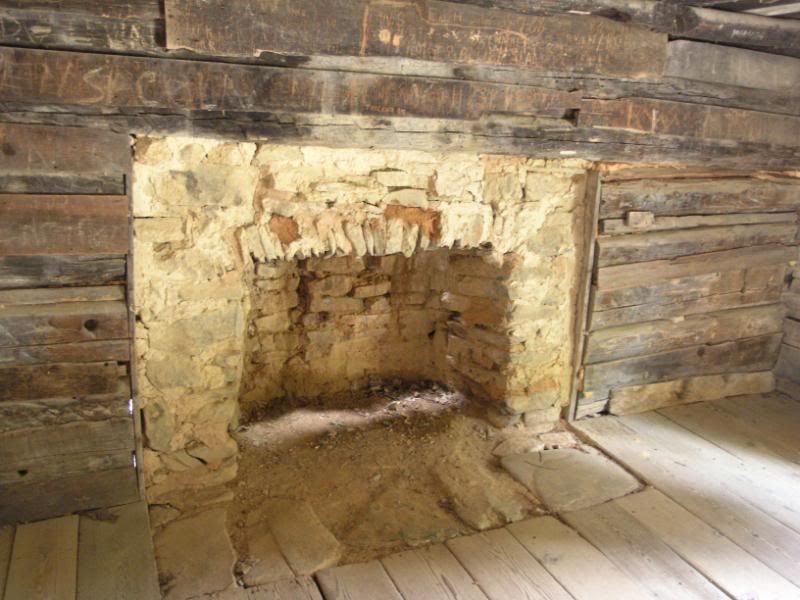 The fireplaces in the house.
I see a girl's face in this fireplace, complete with eyes & eyebrows, hair, nose, cheeks and mouth. She is looking to her right, our left. Does anybody else see it? Now that I've seen it, I can't NOT see it when I look at this picture!
She reminds me of the girl on Norton salt containers.
An outbuilding
The barn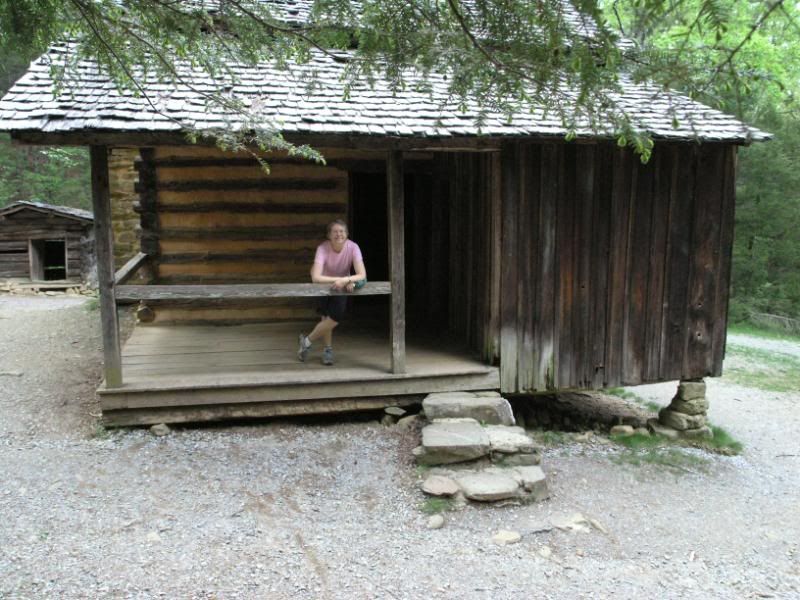 Me on the front porch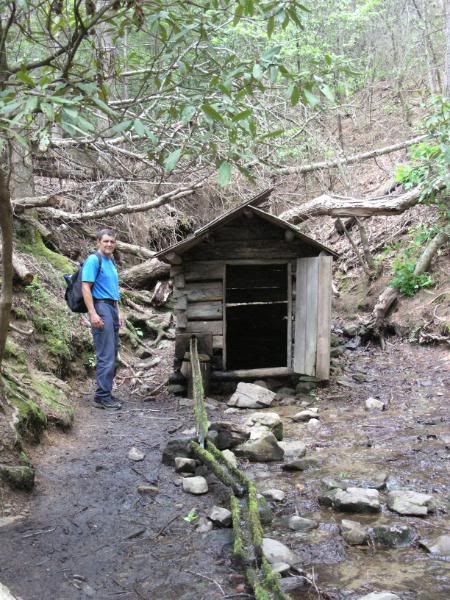 The springhouse
A peek inside the springhouse shows how the water in the stream is directed to a trough where they kept their milk.
A
kind fellow visitor took our picture.