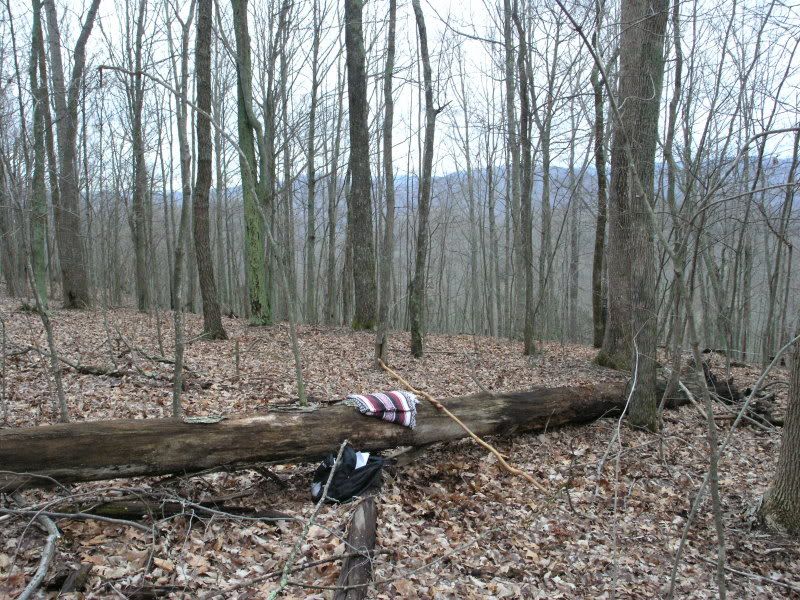 This morning I climbed (and I do mean "climbed"!) up to the top of our ridge, wearing my backpack laden with camera and other assorted necessities (i.e., walkie talkie, compass), and found a comfy log where I spread out my indian blanket and sat for awhile to write. Unfortunately, the wind was howling, making me uneasy with all of those creaking, swaying trees around me, and it became so
COLD
that I could barely hold my pen! But it was fun to be in the woods for a change, after a long winter of staying indoors for the most part. I startled a deer that snorted but never revealed itself. Vultures soared over my head, making strange calls as though laughing at me: "Look at that fool!"


One reason I went up was to see if there are any morel mushrooms yet. I didn't find any, which doesn't mean anything since I usually can't find them, but our neighbor went up yesterday and he didn't find any either which means they aren't out yet since he
always
finds them! I guess it is a bit too early.
Nevertheless, I did enjoy the challenging climb and the commune with nature. It looked like the sun was shining behind the mountains in the distance (it wasn't shining here!), and the shimmering glow was pretty to view.